Regular price
Sale price
$24.00
Unit price
per
Sale
Sold out
Health Benefits of Green Tea
Rich in antioxidants

Helps reduce stress and anxiety

Supports a healthy immune system

Promotes relaxation and better sleep
Story of Jasmine Dragon Pearls:
Jasmine Dragon Pearls is a luxurious scented green tea produced in Fujian Province, China. It is made by layering fresh jasmine flowers with green tea leaves, allowing the tea to absorb the delicate floral aroma.
Our special collection of Jasmine Dragon Pearls is carefully scented with fresh flowers 3 times and then hand-rolled into small, pearl-like shapes, which slowly unfurl when steeped in hot water. This intricate process creates our tea with a captivating fragrance and a smooth, velvety taste. Jasmine Dragon Pearls has been enjoyed for centuries and is a favorite among tea connoisseurs for its elegant presentation and exquisite flavour profile.


Tea Profile

Taste Profile: Floral / Strawberry note/ Subtle Sweetness

Tea Type: Scented Green

Origin: Green tea from Yunnan/ Jasmine from Fujian Province, China

Ingredients: Hand-rolled green tea scented 3 times with fresh jasmine blossoms.

Year: Spring Harvest, 2022

No Artificial Flavors, Colors or Preservatives.
Brewing instructions

Western brewing:
Use 8 pearls (approx. 1.5g) per 400ml teapot with 85-90°C (185-194°F) water. Steep for 3 minutes per infusion, allowing up to 3 infusions.

Gongfu brewing:
Use 20 pearls (approx. 4g) per 150ml gaiwan or teapot. Brew the tea with 90°C (194°F) water, and steep for 30-40 seconds for the first brew, adding 10 seconds from the second onwards. Enjoy 5-6 infusions.
Storage instructions

Store in an airtight container in a cool, dark place away from light and moisture.
View full details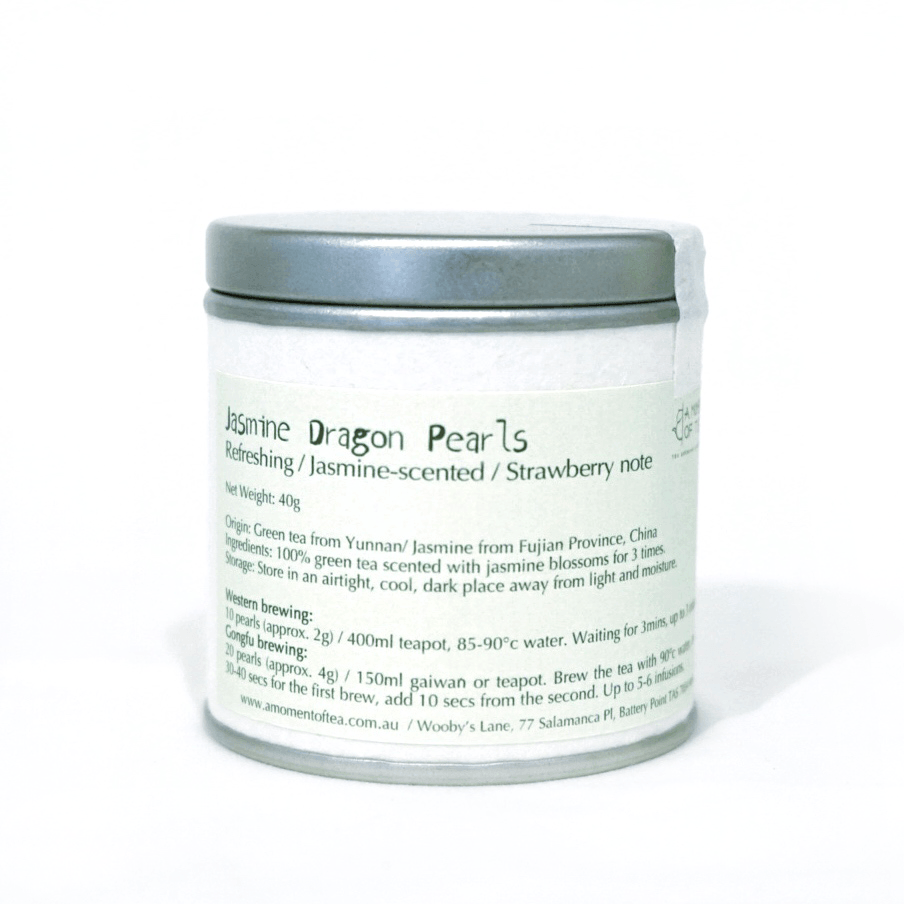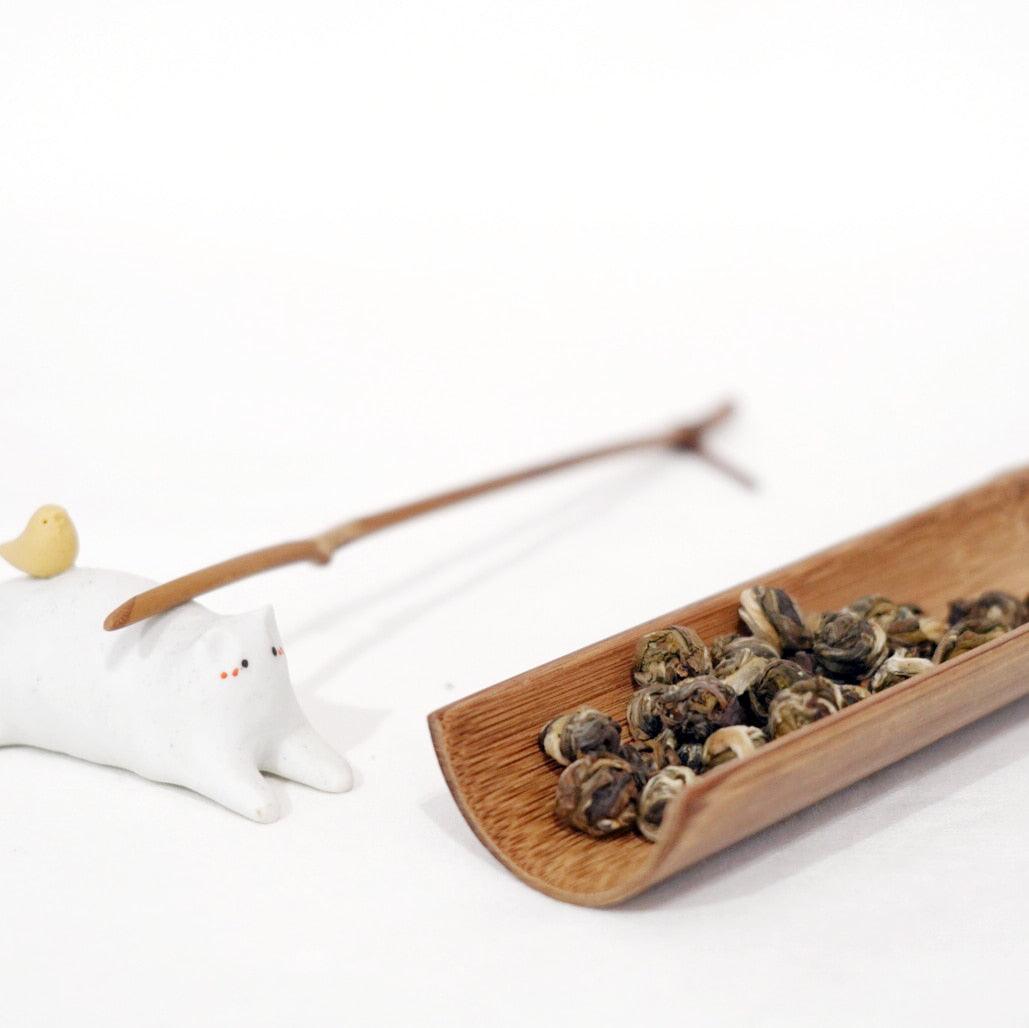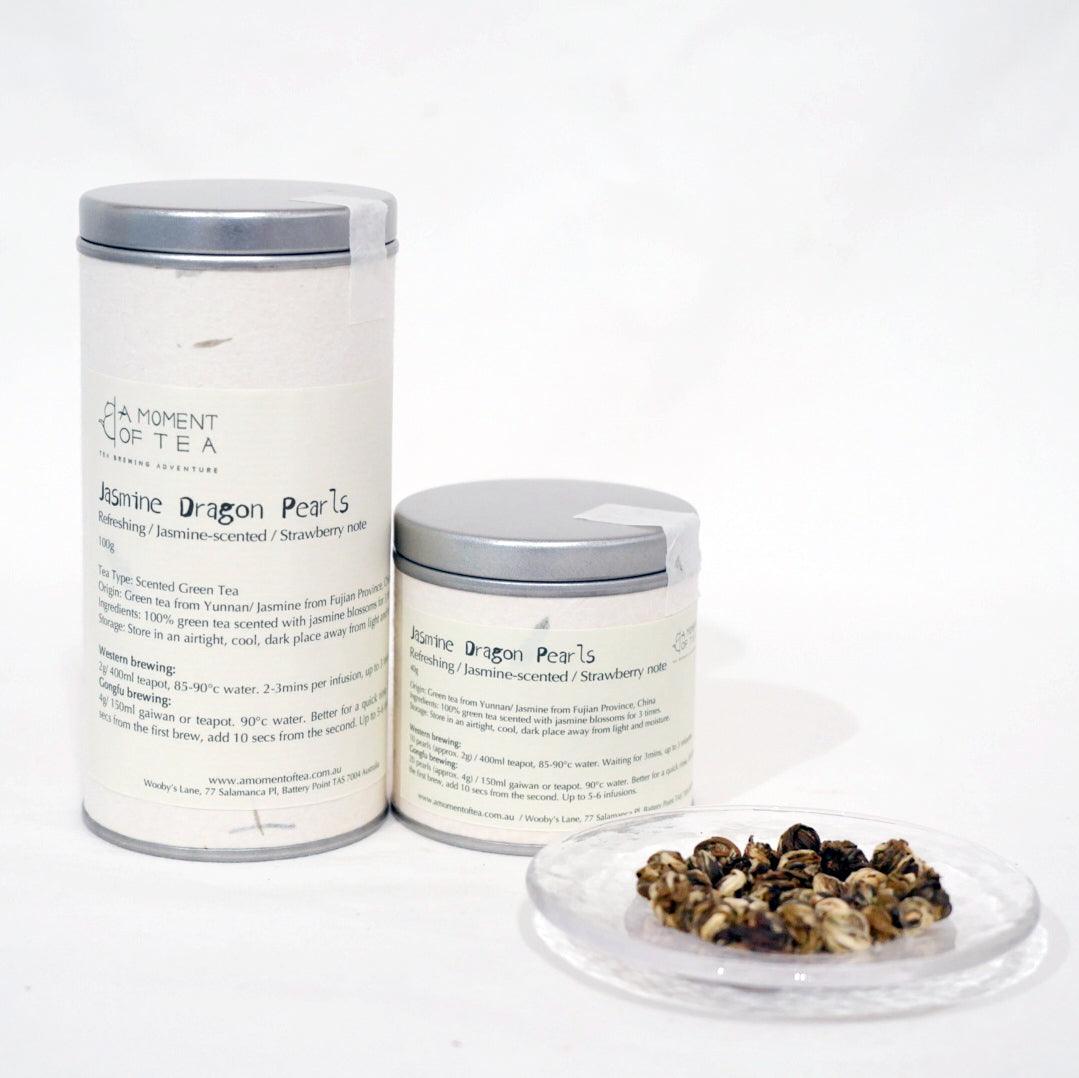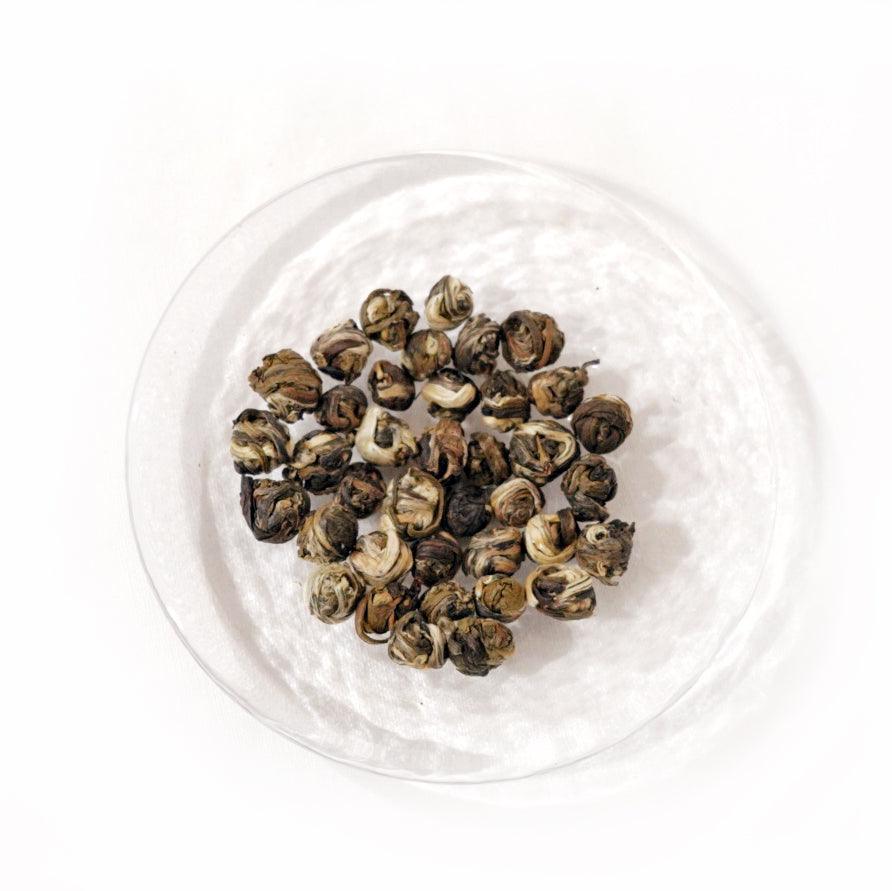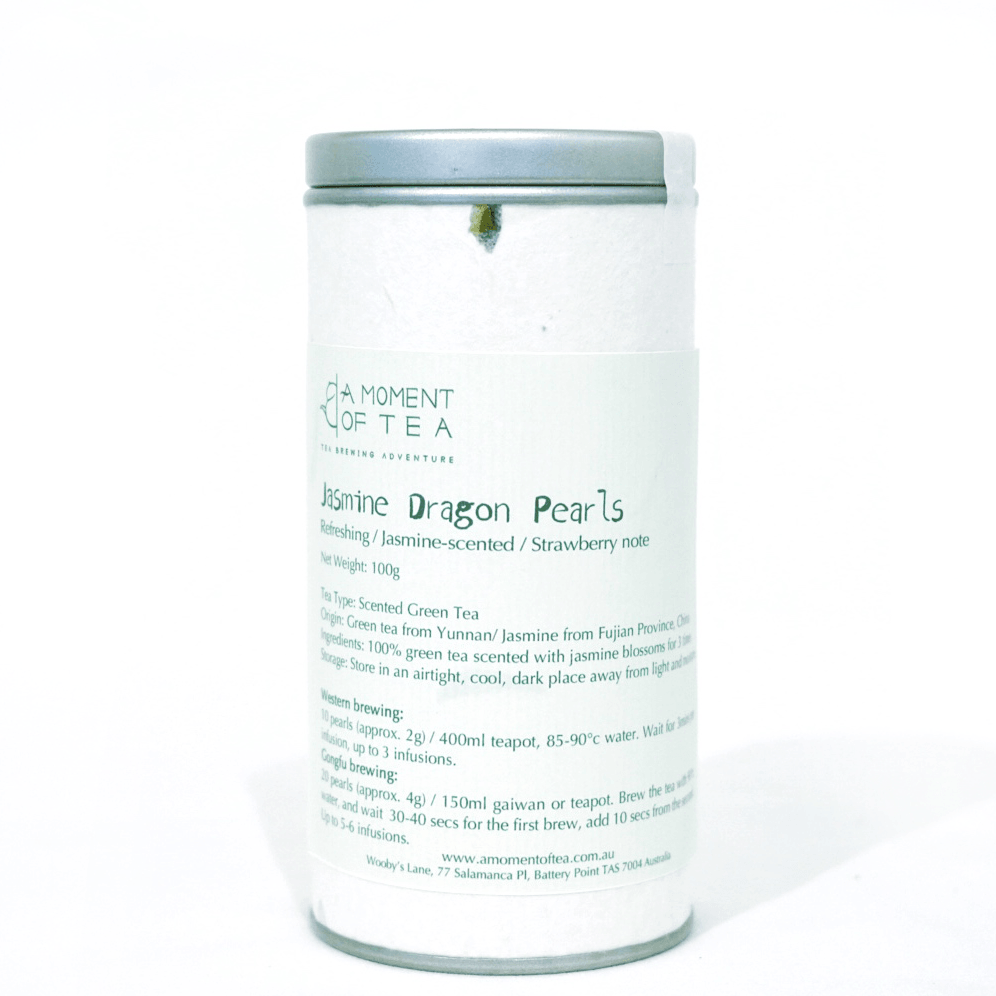 Why Buy From Us?
Physical Store: Trustworthy brand with a welcoming tea bar in the Salamanca Art Centre @ Hobart.
Quality Products: Diverse selection of high-quality tea and beautifully designed tea wares.
Tea Expertise: Founder Joanne brings 9 years of experience in Chinese tea ceremonies.
Media Recognition: Featured by ABC, SBS Chinese and Mercury for our dedication to sharing the beauty of tea.
Easy Returns: Contact us for hassle-free returns on faulty or unsatisfactory products within 7 days.
Our Refund Policy
Buddha's Tears
This tea is delicious, and i get 3 large brews of 1.5L from 10 pearls. Shipping was really fast also!
Best Green Tea Ever
I love the Jasmin Dragon Pearls. Such a lovely green tea without the bitter taste many have.
A Tranquil Oasis in a Cup - Jasmine Dragon Pearls Green Tea Delight!
If you're a tea enthusiast like me, prepare to be enchanted by the soothing allure of jasmine Dragon Pearls green tea from "A moment with tea". Sipping on this delightful blend is like taking a leisurely stroll through a blooming garden.
The fragrance alone is enough to transport you to a world of tranquility. The delicate jasmine blossoms infuse the green tea leaves with their sweet, floral aroma, creating a symphony for the senses. From the moment you open the packaging, you're greeted by an intoxicating perfume that promises a truly enchanting experience.
Brewing a cup of this jasmine green tea is a simple yet meditative process. The leaves unfurl gracefully in hot water, releasing their essence and coloring the liquid with a pale, golden hue. The taste is a perfect marriage of the briskness of green tea and the ethereal sweetness of jasmine. It's not overpowering; instead, it's a harmonious dance on the palate.
What I appreciate most about this jasmine green tea is its versatility. Whether you prefer it hot or iced, the tea retains its enchanting flavor profile. It's become my go-to beverage for moments of relaxation, providing a welcome break from the hustle and bustle of daily life.
The packaging is also worth mentioning. Sealed for freshness, it preserves the integrity of the tea leaves, ensuring each cup is as delightful as the first. It's evident that A Moment Of Tea takes pride in delivering a premium product to tea lovers.
In a world where finding moments of peace is a luxury, this jasmine green tea is a precious gem. Treat yourself to a cup, and let the delicate aroma and exquisite taste transport you to a place of serenity. Highly recommended for tea connoisseurs and those looking to add a touch of elegance to their daily routine.
The most incredible tea I've ever tasted
My partner and I stumbled across A Moment of Tea by accident as we explored Hobart. We never expected to find such an incredible surprise in how good this tea was! The owner shared with us a sample of this tea - while the leaves had already been used to make 3 pots of tea by then, the flavour was still impeccable. Light, yet distinct; and always accompanied by that soft yet pleasant Jasmine scent.
My partner and I are from Victoria and we just affectionately just refer to this tea as 'Tassie Tea.' This is our favourite tea hands down, and I will be stocking up on a few more orders!
Everyone's cup of Tea
From our taste test at the Salamanca markets to enjoying this tea at our home. We love the flavour and it's jasmine scent. A must try and buy. I am almost finished and ordered a new batch.